Most Popular Vape Juice Flavors
VAPE JUICE FLAVORS YOU'LL LOVE
The best vape juice flavors are the ones that you love, but finding them isn't easy.
Walk into a vape shop - or do a quick online search - and you'll find that there are thousands of vape juice flavors to choose from.
So, if you're looking for a new e-liquid flavor to spice up your vape life, how do you know which one to pick? What brands and flavors will work best for you?
Unfortunately, there's no way to know without trying them, and that could cost you a lot of money.
That's why we created ZampleBox, to help you find new e-juice flavors you'll love!
How Do You Try New Vape Flavors?
ZampleBox has one mission: to find the best vape flavors for your particular palate and send them to your door. We bring the vape shop to the comfort of your home.
How does that process work? How do you know which flavors you'll get - or if you'll even like them?
Let us show you!
First of all, feel free to browse our huge selection of e-juice flavors. If it's not one of the biggest (and best) you've ever seen, then we want to hear about it!
The key difference between ZampleBox and your average vape shop comes down to how we find and deliver your customized box of the best vape juice.
Signing up with ZampleBox to try new vape flavors is easy. The first thing you'll do is set up a flavor profile with your basic preferences in four major categories:

This will give our AI algorithm a general idea of what to send you, but you can also customize your box even more. Rather than merely going with, say, fruit flavors, you can add up to ten preferred flavors such as candy flavored vape juice, and also up to ten flavors that you know you don't like.
The AI will take this information and find the perfect match for your taste buds in no time!
Once you're done, just choose the size of your box to maximize your discount: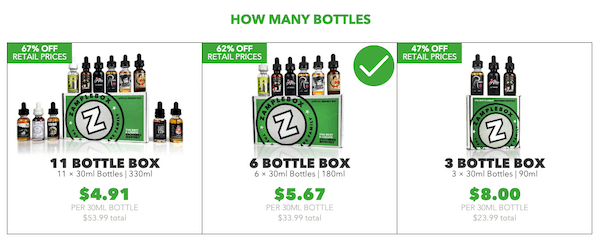 Remember, the more bottles you request, the more e-juice flavors you get to try!
Once you've customized everything to your liking, finish the checkout process, and wait for your ZampleBox to arrive. It's that easy.
Product Quality Guarantee
It's true: we offer cheap vape juice flavors at unbeatable prices. Yet we don't sell vape liquid flavors that are of substandard quality. In fact, it's very much the opposite. We only distribute vape liquids from the best vape juice brands.
This means they contain your PG, VG, and all that good stuff. By working directly with these reputable manufacturers, we can pass the savings directly onto you!
FIND THE BEST VAPE JUICE FLAVORS
While people come to vaping for different reasons, choosing new vape juices should be a straightforward experience – at least in our view. Despite there being thousands of vape flavors, choosing the right vape liquid shouldn't be stressful.
Just sign up with ZampleBox, and let our AI algorithm take care of the business. You'll never feel overwhelmed again, because you'll know that you'll get a catered experience perfectly matching your taste buds.
Every decision we make at ZampleBox has you in mind - and we think you'll agree once you give us a shot.
You won't have to break the bank to find your next favorite flavor. We'll send you a personalized selection from thousands of different flavors each month at up to 70% off the regular retail price.
Take a few minutes and browse the vast selection of vape juices that we can send to your door. They're all high-quality, lab-tested, and perfectly formulated to give you the best experience possible.
What are you waiting for? Start your vape juice subscription today!